Rags Wiki
Welcome to the Rags Wiki, a collaborative encyclopedia for everything and anything that is related to the movie Rags. There are 16 articles and we are still growing since this wiki was founded in 2012. The wiki format allows anyone to create or edit any article, so we can all work together to create a comprehensive database for the Rags franchise. Don't forget to visit this wiki's Guidelines before editing.

Featured Article
Poll of the Month

Kadee Worth's a big personality with an even bigger voice. When she's not jet-setting across continents performing as a pop princess, she's perfecting her "image" that's carefully controlled for her by a team of experts under her music mogul dad.

This poll was suggested by JessyPop

Do you think Rags should be created into a TV show?

 

If you have a suggestion for next month's poll, leave a message here.
Did You Know...
… The song at Kadee's Masquerade Party is called Masquerade and the rhythm of the song is by Robosoul and vocals is by Cid Fox?
… Spoiler Alert; Lloyd was the only one out of his father and brother to change sides, evil to good?
… Kadee has a dog called Trumpet?
Helping Out
To add more Did You Know, go here.
Do you know some important news about Rags? Write them here.
To write a new article, just enter the title in the box below.
Featured Character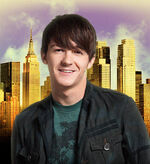 Shawn has an awesome ear for music and has been working as a rodie/sound engineer for a few years. He spots young and promising talent wherever he sees it -- even on the street. When he sees Charlie performing, he's struck by his skills and decides to help him cut a demo and get his career on the fast-track to fame.
Help
Do you have any questions?
Ask one of the admins.
Rags News
S2S MAGAZINE:

"Up until now, the prince has always been the one to save Cinderella from a life of servitude under the control of her wicked stepmother and stepsisters. But in Rags, KeKe's saving the day (and being saved) as pop princess Kadee Worth. She's rescuing the title character Rags, who's real name is Charlie, who wants to make a real name for himself in the music business. See if KeKe helped writers strike a balance with Charlie (played by Max Schneider), when Rags airs May 28 at 8 p.m on Nickelodeon tonight"
Chat
Feel like talking about rumors about Frenemies? Just want to talk about stuff?
Visit the Forum to talk about it.